Stay Informed about the Latest News
Sign up to our newsletter
Back to news
One-year itch: Modi shift to political centre angers both right and left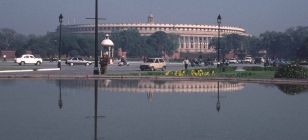 Politics is a short game while economics is a long one. Both tend to converge in the end but in the interim they pull in opposite directions. Because of this mismatch, most of the people are invariably disappointed. This is Prime Minister Modi's problem on the first anniversary of his government. Although his record is reasonably good, he has neither met the extraordinary expectations of his supporters nor followed through on key priorities. Surprisingly, he has turned out to be a pragmatic gradualist — by shifting towards the political centre, he has left all his constituencies unsatisfied.
The economy is in far better shape than a year ago, although nowhere near its full potential. GDP growth has turned around and India is set to surpass China next year to become the world's fastest growing major economy. Inflation is down. Government finances are healthy — both fiscal and current account deficits are under control — and capital inflows have been the highest since '91-92. Insurance and defence sectors have been liberalized and diesel decontrolled. Coal production has grown 8.3%, the highest in 23 years, allowing many power plants to restart. The paralysis afflicting project approvals is over. Both the general and railway budgets were refreshingly investment oriented.
There has been no corruption scandal in the past 12 months, raising the hope that the age of grand larceny may be over. Auctions for coal and spectrum were transparent. Applications and approvals are moving online where there is less scope for bribery. In addition, India's standing in the world has improved thanks to Modi's personal diplomacy, and recent actions to alleviate distress in Nepal and Yemen have reinforced this new stature.
Given this fair record, why is discontent brewing? When you are coming out of such a low economic ditch, it takes time for jobs to come back. When consumer demand is still weak, company results are poor; the producer is shy of investing and jobs prospects are bleak. It's also been a bad year for agriculture and a weak minister hasn't helped. Construction jobs are slow to come back because balance sheets of infrastructure companies were destroyed by approval paralysis of the past government.
Frustrated by that paralysis, voters brought in Modi because of his ability to act. But he has not given enough evidence of his execution skills. Yes, the Jan Dhan Yojana is a success. A year ago, no one imagined that every Indian family could aspire to a bank account. This is precisely what is happening. The stage is now set for a historic change in benefits delivery to the poor via cash transfers through Aadhar identity and mobile phones, which will cut subsidy fraud dramatically.
There are not enough implementation successes, however. Good leaders get into the messy details of execution. If Modi had focused on executing his 'ease of doing business' project, more bureaucratic processes would have been eliminated by now and the BJP-ruled states at least would have cut miles of red tape and become more competitive. Similarly, stronger implementation with municipalities by the Swachch Bharat Mission could have created some real models of success by now about how to clean up a town.
Perhaps, the biggest failure in the delivery of 'minimum government, maximum governance' is the tax department. While Modi has been wooing investors and FM Jaitley promising to create a predictable, non-adversarial environment, the tax department shockingly persists with unfair retrospective demands. The reality on the ground is that the innocent taxpayer continues to be harassed by tax officials. Hence, the image of an unreformed bureaucracy persists.
By moving towards the political centre, Modi seems to have displeased everyone. Businessmen think he is no longer as pro-business as he was in Gujarat. The cultural right is upset that he has turned out to be less sectarian, and even soft on Christians and Muslims. The economic right is disappointed that he has not implemented market reforms more boldly. His enemies on the left find that he has turned pro-poor, and stolen their fire. But with his eyes on 2019, he knows in his heart that votes reside in the political centre and he will win in the long run. The present discontent will also pass because politics and economics will converge in the end.
Gurcharan Das, May 29th 2015