Stay Informed about the Latest News
Sign up to our newsletter
Back to news
Mr Javadekar, ask these three questions before you get to work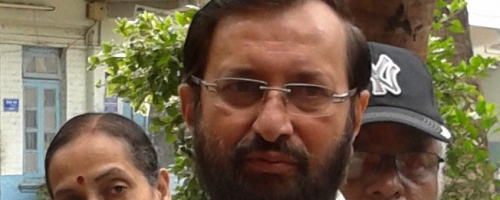 By Mvkulkarni23 - Own work, CC BY-SA 3.0, https://commons.wikimedia.org/w/index.php?curid=20181326

What was supposed to be a routine cabinet expansion this week turned into a bold shake-up. The big change is at the ministry of human resource development where the affable Prakash Javadekar has replaced the combative Smriti Irani. India has been unlucky in the poor quality of its education ministers. Irani was always the wrong choice and she did not help by picking a fight with everyone. She has moved to the textiles ministry, which is not a demotion as everyone thinks. Textiles represent India's single biggest opportunity to create jobs, and if Irani implements the ambitious new policy announced three weeks ago, she could create lakhs of jobs and go to glory.
Ram Shankar Katheria has also been removed as junior HRD minister and rightly so. He spoke blatantly about saffronising education, and made repeated provocative comments against Muslims. The big loss in the reshuffle is Jayant Sinha's transfer from finance to civil aviation. He brought unusual professional depth to the finance ministry and lent credibility for investors. With Raghuram Rajan leaving the Reserve Bank, India has lost two trustworthy voices. Fortunately, Modi has three high performers in charge of infrastructure — Nitin Gadkari in charge of roads, highways, ports; Piyush Goyal in coal, power and mines, and Suresh Prabhu in railways. They have brought rare energy to their jobs and represent India's best hope for delivering jobs and 'achhe din'.
Javadekar will discover that Indian schooling is in crisis if only he would ask three questions. First: why did India's schoolchildren come second last in a respected international test, only ahead of Kyrgyzstan? Yes, Indian kids ranked 73 out of 74 in 2011 in a test of reading, science and arithmetic called PISA (Programme for International Student Assessment). The UPA government's response to this shocking result was to ban PISA from India. But this dismal state of affairs is confirmed regularly by the Annual Status of Education Report (ASER). It shows that less than half the Class V students are able to read a paragraph from a Class II text or do a simple arithmetic sum. Only 4% of Indian teachers pass the Teacher Eligibility Test and three in four teachers in UP and Bihar cannot do percentage sums from a Class V text.
Second, Javadekar should ask: why do poor Indian parents remove their children from government schools, which are free, and send them to low-fee private schools? In urban areas, 50 to 70% of the children are in private schools. In rural areas, private-school attendance has risen from 19% to 29% in ten years. India now has the largest percentage of children in private schools. Parents must be desperate if they will spend their hard-earned income on what is available for free. The honest answer is that one out of four government teachers is absent illegally and one out of two present is found not to be teaching. Can you blame parents for abandoning government schools?
The third question: has the acclaimed Right to Education Act (RTE) improved this tragic situation? The answer is 'No'. The RTE law is only concerned with inputs and not with outcomes. It is obsessed with infrastructure — class size, toilets, size of the playing field, etc — and does not measure what children are learning or the quality of teaching. If you don't measure learning, how will teachers become accountable? The world's best performing school systems have realized that the teacher is everything. They have instituted national assessments and rigorous programmes of teacher training. Our mistake is to believe that good teachers are born; in fact, they are made. Anyone with enough training can become a good teacher. But the training has to be continuous, rigorous, and throughout the teacher's career.
Javadekar does not have some of Smriti Irani's flaws. He is a good listener. He will work collaboratively with the PMO, Niti Aayog, and the TSR Subramanian Committee, all of whom have good ideas. In the end, a good leader sets a few — very few — ambitious goals, focuses on them daily, monitors progress closely, and experiences the thrill of achieving them. What would be a more worthwhile goal, Mr Javadekar, than to get every Indian child in Class III to be able to read and write by 2019? Sounds like a pipe dream — yet Pratham has shown in two states that it can be done in a year.
Gurcharan Das, July 25th 2016