Stay Informed about the Latest News
Sign up to our newsletter
Back to news
India's global strategic goals after the BRICS summit and before the G-20 summit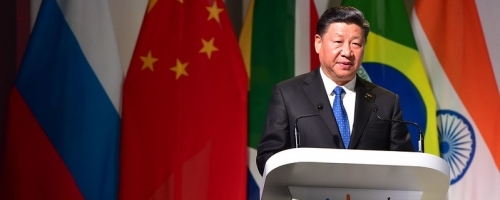 10th BRICS Summit (CC BY-ND 2.0) by GovernmentZA

Last week's international headline announced that BRICS, at its summit in Johannesburg, has invited six countries to join the group. BRICS' members, Brazil, Russia, India, China and South Africa, formerly known as "emerging economies", had, since their inception, been aspiring at more political weight by closing up to the globally dominant G-7 and by trying to become the Global South's voice in world affairs. The six nations that BRICS has chosen out of allegedly forty applicants may surprise in comparison with those left out for the time being: With Saudi Arabia, the United Arab Emirates and Iran, the group has acquired energy supplier heavyweights, which will undoubtedly change future global debates about the price of oil and gas. At the same time, it has taken in one of the Middle East's most enduring conflict potentials, which will most likely put breaks on the group's geopolitical ambitions. With the addition of Egypt and Ethiopia, it strengthens its claim to become the voice of the Global South; it gives Africa a more visible international platform. And finally, by inviting Argentina, it adds to Latin America's relatively light presence on the world stage. From all declarations taken together, the group, which will soon be composed of eleven powers, can at best hope to find improvements of trade conditions among themselves; they say they will work for the de-dollarizing of world trade by introducing their own national currencies as alternative options of payment.
Other ambitions of the group will find so-to-say natural limitations in the stark contrasts between their individual weights and their strategic interests. The ultimate goal of an enhanced BRICS is said to be the reshaping of the world order; the current liberal order created and supported by the USA and its Western allies and partners should be challenged and eventually replaced by a new order coined as "multi-polar order". The term spreads the illusion to many regional powers that they are entitled to a "polar position" of their own. In reality, BRICS serves more the strategic interests of its founding member China. Those interests do not lie in a multi-polar world, but in strengthening China's vision to become the world's new hegemon by challenging the USA position in a bi-polar competition. The invitation extended to the most relevant Middle Eastern powers, the Saudis, the UAE and Iran, plus to the two African giants Egypt and Ethiopia, renders obvious how much China can add to its already strong and growing geostrategic influence in the wider region with its Belt-and-Road pushes through Central Asia and Pakistan. China is already on its way to marginalize Brazil and Russia as contenders for the leadership of the group. But what about India?
The not so hidden Chinese agenda of turning the enlarged BRICS into a tool for its geostrategic ambition of winning its bi-polar race against the dominant USA, camouflaged as "fight for justice and fairness for all in a multi-polar world" is not what India is dreaming of when claiming a genuinely multi-polar world. In its perennial and traumatic dispute and competition with China it is said to have been less enthusiastic about an enlargement of BRICS. For BRICS to become effective in its geopolitical endeavours it will have, indeed, to balance differences between China and India. In as far as this will prove impossible (China will not give up its expansion policies in the Indo-Pacific) India will eventually recognize its interest in making the right strategic and economic choices. India's interests are best preserved in choosing to take sides with the USA and the West, at least in the long run.
India's ambivalence towards Russia's war of aggression against the Ukraine could be partly explained by old legacies of an earlier partnership with defunct Soviet Union and its surviving dependence on Russian military hardware and Russian energy. Russia's support against Chinese expansion, however, has become obsolete due to the latter's growing dominance in all fields of strategic relevance. Russia has become for China a junior partner of decreasing relevance and growing international isolation. Prime Minister Modi, despite all his ambivalent rhetoric and moves, seems to understand where his interests lie. His widening success in pushing back China in South Asia is a remarkable and unambiguous development on the geopolitical map, which cannot be sustained without the support of Western allies. India's active involvement in different settings such as the QUAD (quadrilateral security dialogue with the USA, Japan and Australia) has been enhanced in recent times, clearly as a policy directed against Chinese expansion in the region.
Moreover, Modi has massively and systematically strengthened bilateral ties with neighbours such as Afghanistan, Bangladesh, Bhutan, Maldives, Nepal, Sri Lanka and even Pakistan, indicating thus his strong determination to turn the trend of losing into winning his strategic competition with China. That policy may be primarily focussed on the Indo-Pacific neighbourhood. But BRICS partners must recognize that India will not be willing to serve China's purpose of turning this group into a geostrategic bloc under Chinese leadership, not under the heading of "creating a multi-polar world" and even less as a supporter of China in its pursuit of challenging the US-dominated global order. What is left for India in a BRICS strategy is the ambition to serve as a legitimate "voice of the Global South". Most probably, Modi will strongly demonstrate this ambition when presiding over the G-20 summit in New Delhi on coming September 9 and 10.
September 6, 2023 / Philippe Welti