Stay Informed about the Latest News
Sign up to our newsletter
Back to news
India's "Western" future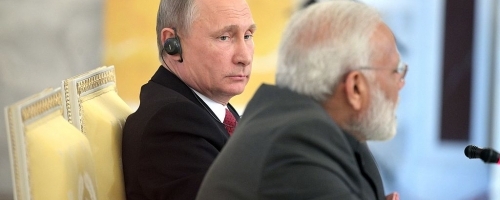 kremlin.ru, CC BY 4.0 , via Wikimedia Commons

India's most conspicuous political move of late is certainly its refusal to join the West's condemnation of Russia's war against the Ukraine and to comply with its sanctions against the aggressor. India has even, together with China, become Russia's main buyer of oil and is, thus, indirectly funding Putin's war. India may not be known for militarily supporting Russia, but remains dependent on Russian armament … and for a long time. An old legacy of Soviet times. At the same time, India is chairing this year's G-20 and could give the Global South a stronger voice in world affairs. PM Modi has started his year of leadership at the helm of the G-20 with criticism of the international order. "Global governance has failed" was the leitmotiv when lamenting the failures of multilateralism. It may have reminded us of India's leadership role in the Non-Aligned Movement during the Cold War, now defunct, when it aspires to a new leading role on behalf of the Non-Western world, now often referred to as the "Global South". But it was a stark reminder also of the G-20's marginal role within multilateral institutions which matter most, such as the United Nations Security Council, the International Monetary Fund and the World Bank.
India continues to send out mixed geostrategic messages to the world and even to partners. India is participating in the new initiative of the I2U2 (for India, Israel, United Arab Emirates and United States), which pretends to seek closer cooperation on "joint investments and new initiatives in water, energy, transportation, space, health, and food security", but in reality has a clear anti-Chinese bias and a geostrategic purpose against Chinese expansion. At the same time, India remains engaged in the Shanghai Cooperation Organisation (SCO), established in China and comprising among others Russia and Central-Asian States as other members. Its core purpose is strengthening confidence among its members, particularly in matters of security and conflict-resolution.
Without much respect for coherence, India has simultaneously engaged in the Quadrilateral Security Dialogue, the Quad, with the USA, Japan and Australia, whose purpose is explicitly to contain Chinese expansion in the large Indo-Pacific area and whose activities comprise manoeuvers of naval forces and more and more also political top level meetings. Despite India's strong dependence on Russian armaments, which generates a continued renewal of cooperative and commercial commitments in the field of arms procurement, India is developing, step by step, specific contractual and strategic relations in the military field with Western partners, such as the USA, Britain, France, Italy and others and, remarkably, Israel. Volume-wise, the Russian part in India's armament still represents far above fifty percent of Indian commitments, but engagements with the West are growing.
For smaller states, strategic ambivalence may be unavoidable, sometimes a necessity. But India is set to play in its own league. These days, it is said to have overtaken China population-wise. With 1.4 billion inhabitants, India is demographically the largest country of the world, now. As a contrast to China's decreasing population numbers, which are set to be halved by the end of the 21st, the "Asian" century, India continues to grow as a nation and as a market, but also as a manufacturing base for international companies. Apple, the world's most valuable industrial company, is betting on India as a market and as a production base by expanding its own factories and retail stores. It plans to produce i-phones not only for the Indian market, but more and more for export to the world. It is one of PM Modi's Make-in-India program impacts, which successfully invites international business to take their value chains to India.
Modi is certainly aware that India's future lies in an ever closer partnership with the Western world. Traumatic arch-enemy China and isolated and soon bankrupt Russia are no alternatives. He will have to learn where the limits for strategic ambivalence lie. His positioning in the case of Russia's aggression against a sovereign country, the Ukraine, should not be his last word, if he is serious about taking his country to the top level of great powers, as he seems to plan.
April 18, 2023 / Philippe Welti