Stay Informed about the Latest News
Sign up to our newsletter
Back to news
Decolonisation? Yes. Let's Reform Our Police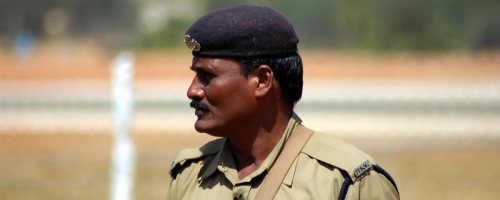 Cop (CC BY-NC-SA 2.0) by Premshree Pillai

The police is often in the news, and more than often for the wrong reasons. Our periodic outrage revives the debate on police reform. But we forget that yesterday, September 22, was the 16th anniversary of the Supreme Court's judgment on far-reaching reforms of the police.
That historic judgment held the potential of transforming a ruler's police into a people's police. States were directed to comply with seven binding directives towards systemic reform. But since then, nothing has changed on the ground.
Instead of engaging in a blame game, let's look ahead. India's police is a glaring remnant, founded by our colonial masters in 1861 to perpetuate their rule. Instead of acquiring a new ethos after Independence, the police has morphed into political instrument. No CM will give up control of a powerful weapon under his/her thumb.
We don't trust cops
By any measure, I am a privileged person. Why then am I afraid to go near my police station? If I am scared, imagine how the aam admi feels. It is not an image problem either, to be fixed with good PR. It is rooted in a deep lack of trust. The ordinary person believes the police serves the powerful, not the citizens. A woman especially doesn't feel safe. A survey by the Centre for the Study of Developing< Societies found that less than 25% of Indians trust the police.
The sipahi remains synonymous with the weekly shakedown of the 'hafta'. The head constable who comes to verify yourpassport considers 'chai pani' his due. In an amazing moment of frankness, an ASI confesses that his illicit earnings are a rightful return on investment since he paid a huge bribe to get his job. Even a woman in khaki extracts her pound of flesh in dowry cases. No wonder, one merely shrugs at a headline about senior officers of various police forces amassing hundreds of crores of rupees.
The history of our police is littered with horrors – Kerala CID's torture camps and Bihar's Bhagalpur blindings, to name just two gruesome examples. Outraged periodically, umpteen commissions are set up. All recommend the same reforms that SC brought together in its seven directives.
Police-executive equation
The bottom line is to change the equation between the police and the executive. All have underlined issues of corruption, brutality, high-handedness, non-registration of FIRs, long duty hours, under-staffing and inadequate training. All have sought to insulate the police from politicians viaa transparent system of postings, transfers and security of tenure; separate the functions of investigation from law and order; and check abuse of police power via a complaints authority.
Frustrated by the lack of action by states, Niti Aayog even suggested shifting police from the 'State List'to the 'Concurrent List' in the Constitution. Most states, of course, cried 'foul'.
But let's also recognise the country remains afloat, thanks to thousands of excellent policemen and policewomen and officers in the country. There are plenty of tales of heroism. In the end, however, low morale, bad training and cynicism define the average cop's life. So where does one go from here?
Give states incentives for reform
The answer is clear. It has to begin from the top. Only a strong PM can do it. As it happens, there is a powerful and popular PM today who is determined to wipe out the mental servitude imposed by the British Raj.
Packaged properly, there are clearly votes in transforming a colonial ruler's police to a free people's police.
The PM could begin by testing the reform in several BJP-governed states, by providing the inducement of a financial grant for police modernisation.
Meanwhile, top police officers can make a genuine beginning by revamping training – beginning with the 85% constabulary. Present training facilities are a scandal, accenting the 'force' side of the job rather than teaching policing with consent and cooperation with the community.
As a start, treat people courteously at the police station. Word of mouth spreads quickly in a neighbourhood. As the reforms unfold, police officers will get empowered. Some will even stand up to wrongful orders of the executive. They will resist the temptation to use provisions of 'sedition' from the colonial statute book against citizens who merely exercise their right to dissent.
After 75 years, the citizens of a proud nation, with the world's fastest growing economy, deserve a professional police they can respect and trust. They want a police service, not a police force.
Gurcharan Das, January 23th 2023