Stay Informed about the Latest News
Sign up to our newsletter
Back to news
US-China trade war: The Huawei hatchet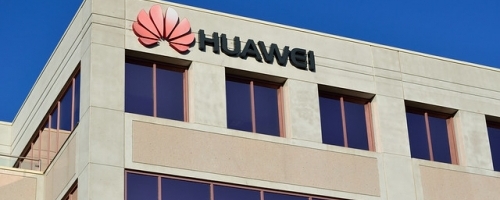 Huawei Office Building" (Public Domain) by Open Grid Scheduler / Grid Engine

The US upped the ante on its ongoing trade and technology conflict with China this week with President Donald Trump effectively banning Huawei from the US market as concerns rise about Beijing's potential use of its tech giant for espionage and gaining access to critical infrastructure. The US Commerce Department added Huawei Technologies Co and 70 affiliates to its 'Entity List' in a move that would bar the Chinese company from acquiring components and technology from US firms without prior US government approval. This, even as Trump signed an executive order banning US firms from using telecom equipment made by companies deemed to pose a national security risk. Though it was not named, the target was clearly Huawei.
This is only the latest episode in an ongoing tussle over technology between the world's two major powers. Huawei retorted that attempts to restrict the Chinese tech giant from doing business in the US will cause the US to fall behind in the development of next-generation mobile networks. According to Beijing, the US has "deployed its State power to smear and crack down on targeted Chinese companies in an attempt to kill their normal and legal business operations" and it vowed to "resolutely safeguard the legitimate rights and interests of Chinese enterprises".
Huawei is viewed in China as an integral part of the 'rise of China' story. An attack on Huawei is deemed as an attack on China. The US has also unsealed charges against Meng Wanzhou, Huawei's chief financial officer, who was detained in Canada last December. This US-China conflict isn't restricted to the two countries any more.
Washington has been pressing allies to keep Huawei out of mobile networks and to take a serious look at the workings of the company. Most recently, for example, Dutch intelligence services have been investigating Huawei for possibly spying for the Chinese government by leaving a 'back door' to data of customers of major telecom firms at a time when the Dutch government is to take a call on Huawei's involvement in the Netherlands' new 5G network.
In Britain, telecom service provider BT confirmed last year that it was removing Huawei equipment from key areas of its 4G network, following concerns from MI6. Australia, New Zealand and Japan have already banned Huawei's 5G equipment, while most countries in Europe are reassessing their ties with the Chinese tech giant. Stakes are high as this is part of a wider struggle between China and the US over trade and global influence.
The conflict, which was close to a resolution just a few weeks ago, is once again escalating with the US ramping up the pressure by raising tariffs on a list of $200 billion worth of Chinese imports to 25% from 10%, and China retaliating with higher tariffs on a revised list of $60 billion worth of US products.
Earlier this year, the Trump government introduced initiatives to speed up the roll-out of new wireless networks across the US, arguing that "the race to 5G is a race America must win". But it is still not evident if a coherent strategy is in place for tackling the dominance of Huawei, as there is no major US alternative to foreign suppliers of 5G networking equipment.
China's efforts are centralised and the Beijing has for decades viewed advances in cutting-edge technology as a national security priority. 5G has emerged as an exemplar of China's ambition to be a global technology leader given its ability to be a game changer in the next round of technological revolution. And it is precisely because of Huawei's history — and Chinese laws that require domestic companies to assist the government in intelligence-gathering when the communist party in Beijing requests it — that Huawei's rise is now causing consternation in western capitals.
As India gets ready for the much awaited network trial for 5G services from next month, there is still reluctance to frontally confront the challenge posed by the western pushback against Huawei. A final decision on making Huawei part of the trial for any telecom services company is yet to be taken. It won't be part of the first stage of trial but this is subject to a re-evaluation. National security and economic prosperity have always been intertwined. But as the strategic competition between the US and China takes a new turn under the garb of trade and tech conflicts, countries like India will increasingly find their strategic space shrinking. New Delhi will have to take along-term view and adopt a policy that not only preserves its immediate interest, but also enhances its own technological sinews.

This commentary originally appeared in Economic Times.
Harsh V Pant (ORF)
(Prof.of International Relations at King's College)
29 May 2019