Stay Informed about the Latest News
Sign up to our newsletter
Back to news
The Ukraine Crisis: Impact on Indian defence policy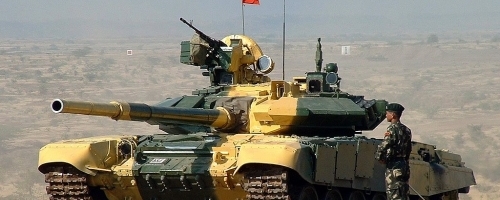 cell105, CC BY 2.0 , via Wikimedia Commons

The Ukrainian conflict has compelled India to wean itself off Russian military capabilities.
As we mark the first anniversary of the Ukraine Crisis, there are a host of issues and implications that the Ukraine conflict has raised. Since February 2022, Moscow's military campaign has been quite poor as a result of flawed planning and execution, costing a significant number of both Russian and Ukrainian lives and infrastructure. The latest winter offensive again Ukrainian forces has yielded no gains to Moscow. There are multiple implications for Indian defence policy in the face of Russia's aggression against Ukraine. The first is the growing and deepening compact between Russia and the Peoples' Republic of China (PRC), which presents worrisome consequences for the Indian defence policy. Notwithstanding, External Affairs Minister, S. Jaishankar's comment last November that the India-Russia is "steady and time-tested", Russian dependence on the Chinese for political support and now potentially for weapons to sustain its military offensive against Ukrainian forces means India has some serious challenges to confront given its extensive reliance on Russian arms to defend against adversaries such as Pakistan and more importantly, the PRC. The increasing proximity between Moscow and Beijing will limit India's military options and fetter its capacity to credibly prosecute military operations if a war breaks out between India against Beijing or Rawalpindi or both.
"while Indian dependence on the Russian Federation will continue into the foreseeable future, given India's accumulated inventories of Russian-origin conventional armaments, it is undeniable that India has to wean itself off Russian military capabilities."
Secondly, while Indian dependence on the Russian Federation will continue into the foreseeable future, given India's accumulated inventories of Russian-origin conventional armaments, it is undeniable that India has to wean itself off Russian military capabilities. This is not just going to be demanding but requires finesse. Several of these Russian weapons systems, such as fighter combat aircraft, long-range artillery, air defence systems and tanks, are likely to continue to be fielded by the Indian Armed Forces for at least for the next two decades. India, today, is fundamentally at a crossroads requiring some sharp choices that should enable it to break free from Moscow's stranglehold over key military supplies to India. However, this is not exclusively of Moscow's doing, it is an asymmetric dependence New Delhi has created for itself. A combination of factors explains this excessive dependence on Moscow: India's inability to secure timely and cost-effective replacements of existing Russian hardware as well as the refusal of alternative suppliers to provide India with the best conventional military equipment on terms that Russia did and secondly, but most importantly, New Delhi's failure to indigenise military capabilities that meet the requirements of the Indian armed services. Thus, blaming Moscow alone will not overcome India's military woes, New Delhi has to embark on a deeper programme of indigenisation. New Delhi needs a combination of two shifts: A progressive move away from Russia to meet its conventional military needs and greater investments in indigenous weapon systems. Thankfully, this effort is already underway following the outbreak of the Ukraine Crisis last year, India cancelled or kept on hold several orders such as MiG-29 fighters for the Indian Air Force (IAF), Mi-17 helicopters, and Krivak Class stealth frigates. India faces serious obstacles with regard to spares for its frontline fighter aircraft—the Sukhoi-30s due to the ongoing conflict between Russia and Ukraine, which has placed serious strains on the Russian aircraft industry to keep its external customers adequately supplied. It is evident that the military hostilities between Moscow and Kyiv are likely to be protracted at a minimum, which will significantly weaken the Russian defence industry. In fact, by backing Ukraine, the West's aim is to gut Russia's defence industry significantly, which should add an impetus or catalyse India's own quest to diversify and indigenise.
The government's Atmanirbhar Bharat initiative is also geared towards limiting, but not eliminating India's dependence on external suppliers for its defence. The latter, however, can only supplement New Delhi's external dependence. Atma Nirbhar Bharat is likely to take time to realise and defence imports will remain a sizeable part of India's military inventory, even if some key projects under Atmanirbhar Bharat bear fruition. The key test for New Delhi going forward is how efficiently it can wean itself off Russian to non-Russian sources to meet its military requirements. Beyond Russia, there are already some big players such as the United States (US), France, Israel and, to a lesser extent, Germany, Sweden, and the United Kingdom (UK) in the Indian defence market. Effectively leveraging the capabilities of all these key suppliers will make it necessary for India to make it clear that it will require them to set up manufacturing and production facilities and also help create a large reserve of spares to offset any disruptions in supplies.
Moving away from reliance on Russian conventional military capabilities could potentially have costs beyond defence policy for India and it could affect India's strategic capabilities. New Delhi is still dependent on Russian support for the sea leg of its nuclear weapons programme, this mandates that New Delhi also work towards reducing the extent of its dependence in this area.
Kartik Bommakanti (ORF)
17 March 2023