Stay Informed about the Latest News
Sign up to our newsletter
Back to news
Mumbai terror attack: Six years later, are we ready?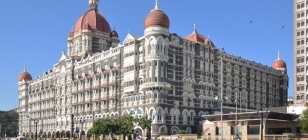 Six years ago most of us sat and watched a carnage in Mumbai being enacted on our TV screens. It seemed like a bad dream as we watched terrorists in action and nothing could have brought home the impact of terrorist action as those endless hours. We heard, unbelieving, some of our media giving running commentaries as the commandos launched their search and destroyed their mission. This was war and we knew where it came from. It was obvious the terrorists were not ragtag jihadists but were trained, programmed-to-die killers. The battle was being fought as much on TV as in the jihadis' control rooms across the border and on the ground in Mumbai.

India came to a stand-still for three nights as we all watched the State's confused reactions on display, accompanied by a media who made this tragedy and carnage into a mega event, just what the terrorists had wanted. Terrorists attacks will take place in the future also and the state may not be able to avert all of them. The point is whether the government and the people have learnt lessons for the future and are now better prepared to avert and handle these situations.

It is of course unfair to compare ourselves with the way the US has handled future threats following September 11, 2001. It is not just that they have immense resources and are better able to allocate and equip themselves. Bush was able to ram through the highly restrictive Patriot Act, Congress was more than willing to provide funds and Americans accepted new restrictions for greater security, the US had world support (today we are all Americans, said the French) with the ability to strike across globally as they did that less than a month later. The US also does not have a neighbour like we do.

In a world where technology changes exponentially as well as becomes accessible to the common consumer, the concept of communications and threats will change rapidly. Defence and science research in developed countries now concentrates on developing tools and methods that miniaturise weaponry and surveillance or rely on robotic weapons. The terrorist has quickly adapted to this technology. Thus, apart from the present brutality of the likes of ISIS, Boko Haram, Al Qaeda, Al Shahab, the Taliban or LeT, a new threat looms. Cyber terror and cyber warfare alongside 'conventional' plots and schemes will play havoc to global systems. It is not just the terrorist who uses these modern techniques; so do criminals and spies in the pay of enemy countries. Downstream activity for chasing communications, deciphering coded messages, instant translations need language experts; money transfers on Internet and espionage related activity in multiple codes, are difficult to follow.

So how does the State secure its people and the country's assets and interests? Have our security reforms post-2008 kicked in? In India, we have usually invented a new agency after each debacle which is first opposed by the existing systems, then allowed to function for some time and finally warped beyond recognition and into obsolescence.

The US, with all its legendary freedoms and privacy laws has gone in for total electronic surveillance. A great deal of this surveillance after September 11, 2001, had preceded the Snowden disclosures but this has only tightened measures. In fact, going further, US surveillance over friends and enemies has consistently been extensive, although one does not talk too much about the former. Today the US has aircraft fitted with mock antennae for listening to all phone conversations in the US. Americans download about 5 billion email messages a day. Any State that resorts to massive surveillance could be described as totalitarian unless it unequivocally accepts alternative opinion, disagreement, criticism and dissent as legitimate expressions of democracy and distinguishes this from disloyalty. Hopefully, Americans will continue to make a distinction between privacy and freedoms that impact on security.

Nevertheless, there is no escaping state surveillance. This is going to be the new world where one of the main methods for intelligence agencies to collect intelligence is to electronically listen to every conversation till the suspected terrorist can be separated from the innocent. Terrorism is far from being noble, follows no rules and is not likely to disappear suddenly. Counter-terrorism can be harsh but is required to follow some rules. We need state-of-the-art intelligence but we need the freedoms. It is always going to be a difficult choice. Is India ready for the enormity of these emerging challenges of the new world?
Vikram Sood
28 November 2014
(The writer is an Adviser to Observer Research Foundation, Delhi)