Back to news
More players rising in space launch vehicle market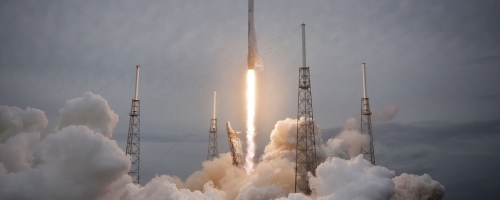 India successfully launched its workhorse rocket PSLV as a purely commercial mission. PSLV demonstrated its capability to match small satellite requirements but competition is intense with the spurt in dedicated small satellite launch vehicle (SSLV) ventures. An SSLV has a quick turnaround time eliminating the frustration in small satellite industry that has to wait for months before a launch opportunity arrives. The PSLV is not capable of this with the existing infrastructure and, therefore, ISRO's response is to field its own SSLV starting launches next year.
Small satellite companies intend to launch thousands of small satellites for low latency communications, Internet, imaging, vehicle and ship tracking services etc. The Internet of Things paradigm also depends on these constellations. This market is expanding into a multi-billion industry opening a lucrative market for launch service providers. For example, OneWeb contracted 21 Soyuz launches in a more than $1 billion deal.
Earlier, small satellites had to wait long before a piggyback launch opportunity arrived. The wait time dealt a loss to the business ventures. Sensing this frustration, a new generation of small satellite launch service providers started experimenting with smaller launch vehicles that have quick turnaround times. Rocket Lab is an example of this emerging industry.
This raised competition for traditional space companies that could reorient their existing rockets for the small satellite industry. For example, ISRO had the PSLV demonstrate its fourth stage restart capability targeting multiple orbits for this reason. It also orbited about 100 small satellites in a single launch. These contracts were predominantly American as the US lacked dedicated SSLVs.
Despite the need, the US continues to restrict the PSLV due to non-transparency in pricing. This restriction has been extended recently by the Federal Aviation Administration citing the need to protect its nascent SSLV industry. Although the American companies can obtain a one-time waiver to use the PSLV, the bureaucratic process coupled with the upcoming availability of domestic launch options could reduce the PSLV market share.
Moreover, PSLV cannot match the turnaround times of a dedicated SSLV, not to mention the pressing domestic launch demands. Therefore, ISRO is pacing to industrialise the PSLV to achieve a higher launch rate as well as pricing transparency. However, the targeted year 2021 is three years away.
On the other hand, China had tweaked its space policy in 2014 for allowing private players. The result of this policy is the series of successful tests carried out by private entities such as LandSpace, OneSpace etc. this year. LandSpace is aiming for the first private launch later this year. The funding for these companies came from private sources suggesting that this industry could be a momentum play.
However, China is debarred from launching American satellites because of inadvertent technology transfer concerns. Therefore, the major market for it would be European, as many of these countries actively promote startups.
Space startups working on small satellites are increasing and a majority of others require space-derived data for their products. PSLV had launched European satellites since the late 1990s and this market could be targeted by China. In fact, LandSpace was contracted by Danish CubeSat manufacturer GomSpace for a launch in 2018.
Within Europe, Italy and Portugal propose to field SSLVs and the UK has an aggressive strategy to set up launch services within the country. The UK is already a world leader in satellite manufacturing and is considering launch services as a major part of its industrial strategy. However, these efforts could take time as the new spaceports need to raise their confidence levels. This gives space for China as long as the European space companies do not use American components for their satellites.
This has compelled ISRO to go for its own SSLV venture to be started by mid-2019. It is looking at a potential business of Rs.1,500-2,000 in a 10-year timeframe with the rocket flying about 50-60 times per year, a turnaround time suitable for small satellites. This capability and the 2019 timeframe suggest India could reduce the risk of losing small satellite launch market share relying solely on the PSLV.
ISRO is planning to include the private industry in developing and launching the SSLV. The demand for a higher rate component, motor or stage production from the industry could be better realized through the SSLV given the expected launch frequency. The quick turnaround time also suggests the on-demand nature of the SSLV, which could be a strategic asset given China's demonstration of anti-satellite weapons.
This does not mean that the SSLV is a replacement for the PSLV. The pressing domestic demand and emerging markets in the Global South needing remote sensing satellite launch services could be tapped by the PSLV. A combination of PSLV and SSLV will retain India's competitive edge in the global launch vehicle market as well as assuring independent access to space. But a tight competition is emerging in the SSLV segment and how India fares in this would demonstrate its innovation and industry potential.

This commentary originally appeared in DNA.
Vidya Sagar Reddy Avuthu (ORF)
25 September 2018