Stay Informed about the Latest News
Sign up to our newsletter
Back to news
Modi can't take India-America ties for granted with US President Trump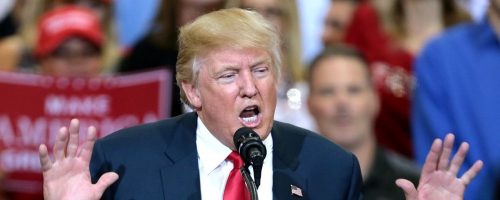 Par Gage Skidmore from Peoria, AZ, United States of America — Donald Trump, CC BY-SA 2.0, https://commons.wikimedia.org/w/index.php?curid=52646489

New Delhi is going through the motions of pretending everything is normal.
President Donald J. Trump's decision to torpedo the Paris Climate Change Agreement is yet another manifestation of the US decision to walk away from the very world order that it constructed and benefited from in the last 70 years.
It comes on the heels of a marked shift in America's attitude towards NATO — the key alliance the US crafted and led since World War II — believed to be a signal of the changed times.
Antagonising NATO
Since World War II, the US national security doctrine emphasised the importance of preventing the rise of any dominant regional player in either Europe or East Asia. Through NATO, and its alliances with Japan and South Korea, the US maintained its global primacy.
The US still claims to uphold NATO, but Trump's boorish performance at the NATO summit last month made it clear that things are not the same. He not only berated his fellow NATO members for not spending enough on their defence, but also pointedly refused to endorse its key Article 5 committing the alliance to a common defence where an attack on all.
As for the East, the US Secretary of Defence, Jim Mattis, who was in Asia to make a major policy address at the annual Shangrila Dialogue, sought to reassure America's Asian allies about his country's willingness to stand by them, but he has found himself having to defend his president's isolationist policies.
Trump's criticism of NATO and his decision on the climate agreement could not but cut the ground from under Mattis' feet. This had, in any case, been preceded by the American pull out from the Trans Pacific Partnership which had been designed as the linchpin of the American pivot to Asia.
Mattis' focus was on North Korea, because developments there directly threaten the United States through its ICBMs. For the present, this will reassure Japan and South Korea, but it certainly does not answer all the issues that confront them.
True, on the eve of the Mattis visit, the US Navy conducted a patrol past a reef claimed by China. But all Mattis had to say was the Chinese activities in the South China Sea undermined regional stability. It is no secret that the US is not willing to push China beyond a point because it needs Beijing to deal with North Korea.
Assertive China
So Mattis said that not only was conflict with China "not inevitable" but that "our countries can and do cooperate for mutual benefit." This could hardly have inspired the ASEAN which is, in any case, deeply split over China.
As for Europe, its dilemma is palpable. On one side its trans-Atlantic ties are foundering, and on the other, an increasing assertive China is seeking a closer embrace through its One Belt One Road scheme.
In the process, Beijing is systematically wooing Central and Eastern Europe, as well as seeking to enhance its investments in Europe. Already this had led to a weak European response to its activities in the South China Sea.
Where does India figure in all this?
New Delhi is going through the motions of pretending everything is normal. Even though it boycotted the OBOR summit, it is readying to join the Shanghai Cooperation Organisation, a military, political and economic grouping run out of Beijing.
Perhaps one part of India is quite comfortable with the statist and authoritarian model that the principals of the SCO — Russia and China — represent.
India's role
But India can hardly be comfortable with the sight of the US, upon which it has come to rely on unconscionably in the past decade, behaving the way it is doing. Its embrace of Saudi Arabia and the very obvious push to destabilise Iran are bad news for New Delhi.
There is nothing in Modi's recent tour to Europe to suggest that there are viable options there. India's trade with Europe pales into insignificance as compared to China. As for investments, China's outward and inward investment from Europe is orders of magnitude greater than ours.
Besides, Europe is badly distracted by Brexit, dissonance with the US and the repeated terror strikes by home-grown jihadists. A lot of hope now rest on Modi's meeting with the US president. Trump's critique of India's climate change stand is not a happy augury. It would be a brave man who will argue that the visit will go well.
If time-tested allies like Germany feel that the time has come for them to think of going on without the US, there is little reassurance for India which needs some means of balancing a China which is spilling onto its neighbourhood and the Indian Ocean, and pursuing deep ties with Iran to enhance its energy security and connectivity with Central Asia and Europe.
This commentary originally appeared in DailyO.in.
Manoj Joshi
9 June 2017