Back to news
Modi's reforms and chances of his return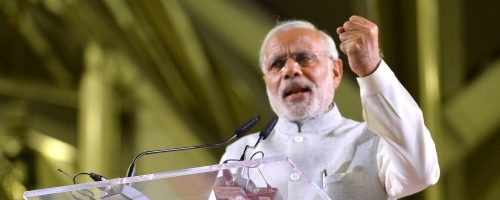 "PM Narendra Modi in Singapore" (CC BY-SA 2.0) by narendramodiofficial

Most people will be deciding on whom to vote for next year on the basis of what the Modi government has done for them in the past five years. The state of the economy will be important in that decision specially the reforms that the Modi government has undertaken.
Taking stock after four years today, one can see a few changes in the economy that have taken place for the better. The government can take credit for passing the Bankruptcy code which is important for attracting FDI. It has made winding up business easier. With many hiccups the government has got GST in place though there are many critics on the way it is being implemented. On the whole creating a single market through GST has been a good thing for business. But its cost was the slowdown of the MSME sector and export growth.
On agricultural front nothing much has changed and farmers are still distressed. The raising of MSPs has been welcome but complaints are there about how it is to be calculated and its impact on inflation. The major changes that are required in the marketing of produce, giving quality inputs and access to credit to farmers have not been achieved and have not led to higher productivity and farm incomes significantly.
The share of manufacturing in GDP has not gone up to 20% and is stagnating around 16% despite the 'Make in India' initiative. Exports have started growing only recently in the last 4 years. Even though a big amount of FDI ( $ 208.99 billion since 2014-17 )has come, it has not led to much job creation. Skilling of youth also has not led to an increase in jobs for the youth. Automation and digitalization is taking place in big industry. A recent RBI study has revealed that manufacturing jobs grew only by 2.1 per cent and total employment has fallen by 0.1 per cent in 2015-16 and 0.2 per cent in 2014-15. Modi has clearly not lived up to his promise of creating 10 million jobs a year.
The recent move to bring about a change in labour hiring rules may also backfire. The government is trying to introduce fixed term contracts in almost all industries and even the Trade Union run by RSS is up in arms against it. With fixed contract jobs in place there will be no permanent jobs but this will allow flexibility for big companies. The government is trying to introduce labour reforms by stealth. If successful, India may well climb the Ease of Doing Business index from 100th place to 50th place, the declared target of the Modi government. But it is doubtful.
People will also remember demonetization and the huge disruption it caused. The poor will remember loss of wages, jobs and having to move back to villages. The futility of the exercise is now visible. Almost all the money that was demonetized came back into circulation as many bankers turned into agents for owners of black money and helped them change black into white.
Today the whole banking system is in disarray and some corrupt bankers from Public Sector Banks helped people like Nirav Modi. Banking scams are continuing and new scams are surfacing. The mountain of NPAs is a legacy of the past no doubt and the lackadaisical attitude of the UPA government towards PSBs' lending. But Nirav Modi escaped during NDA government's tenure. How Mr. Modi will be able to resolve the banking mess and bring back the confidence of the people in PSBs and the banking system as a whole, will be a very important yardstick in gauging the performance of the NDA government.
Millions of people—at least 250 million are still very poor in India and they are in need of good healthcare and quality education. The queues and crowds around government hospitals will convince anyone that nothing much has changed in the last four years in public healthcare. Many plans have been laid out for bigger and better hospitals but we still don't see the results on the ground even in the national capital of India. Public expenditure on health and education remain abysmally low. The All India School Education survey paints the continuing dismal picture about the quality of primary education.
Digitalization has been an obvious change for the better. But gaps and leakages have surfaced creating much doubt and apprehension regarding the security of the personal data that the government has collected from citizens. On the whole digitalization has been beneficial for a country like India where nothing used to move without masses of paper work.
Modi's idea of financial inclusion by creating1.3 crore bank accounts for the poor in 2014 was hailed as a success. Today 29.5 crore have got bank accounts but unfortunately about one fifth of the accounts are dormant. The poor who have good memories will also remember Modi's promise of bringing back black money from abroad and putting Rs 15 lakhs in each account. No action on that front!
Low income people, however, will be grateful for the insurance scheme covering life and accident that Modi government has started and 18 crore people have been covered. They will be grateful for the health scheme for 10 crore people also in which the contribution by the beneficiary is small. On the whole they may feel that the Modi government has given them something more than the UPA government. Inflation has been lower than from the previous era but there is the impending fear of rise in oil prices and its impact on inflation.
Many women (3.4 crore) will be grateful for the free gas connections which will save them from polluting bio fuels like cow dung. But women's earning capacity in villages and towns is low and their participation in the labour force is falling. Without money in hand they will not be able to refill the gas cylinders. Nothing significant has happened in women's empowerment front and safety or their ability to choose when to stop having children. India's meta son preference is continuing as before. The Modi government will, however, be mainly judged on the impact of demonetisation and GST, low job creation and its ability can resolve the banking crisis.

This commentary originally appeared in The Tribune.
Jayshree Sengupta (ORF)
13 April 2018