Stay Informed about the Latest News
Sign up to our newsletter
Back to news
India's growing trade deficit with China: What can be done?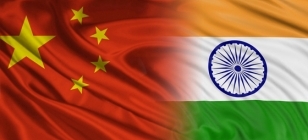 Where politics disappoints, economics gives a hope. The Sino-Indian ties are emblematic of this proposition. Once bitter neighbours, India and China have for years been trying to integrate economic ties to help resolve their territorial dispute, and trade between the two countries has steered bilateral relations for the last decade. The bilateral trade has travelled a long way since the two sides signed the Most-Favoured Nation Agreement in 1984, crossing the $10 billion mark in 2004, and China becoming India's biggest trading partner in 2011.

That said, the bilateral trade has seen a downward trend since 2011, with 2013 registering a 1.5% decline. The current trade deficit with China stands at $ 31.42bn. The leadership of both the countries have set an ambitious target of $100 billion to be achieved by 2015- which looks implausible now.

Alarming levels of deficit and the rising imports from China has cast a shadow on the once flourishing trade. China's predatory trade practices which include a mulish refusal to allow free flow of its currency making its exports advantageous; low wages; local tax incentives and aggressively subsidising domestic players- all make the current trade between these two countries unsustainable. Besides, Indian exporters are routinely confronted with market access issues in China.

It would be difficult to sustain good trade relations between the two countries unless some concrete steps are taken by both the sides to bridge the growing deficit. This is a problem that India is grappling not only with China but with several of its trading partners including Indonesia and a few other ASEAN countries. There are quite a few reasons for the growing deficit with China.

India's economic growth has seen a shift from agriculture to the services sector over the years. The software services and IT enabled services exports, in particular, has been one sector where India has not only had a competitive edge globally, but also as against China. However, this golden industry faces restrictions in the Chinese market with the country's increasing focus on developing its service industry in an attempt to create more employment for its youth. The International Data Corporation says that China, with a 10% share of global software developers, is already ahead of India which has 9.8% of the world share. The threat is notably serious because China is wooing Indian investment to help set-up its own software services industry. While Indian software and services industry exports are focused on the developed markets, and the industry as such does not face a slowdown; India needs to eye the Chinese software industry to arrest the fast-widening trade deficit with China. Further, there is a need to build on the value chain in software services.

The farm sector and agro-processing industry also face limited access in Chinese market, continuing the Chinese trend to allow limited access in the higher-value sectors. In the past, China has banned several agricultural exports from India, including Basmati exports without providing sufficient scientific evidence as is required under the Agreement on Sanitary and Phytosanitary Measures.

The Pharmaceuticals and auto component exporters confront similar issues in China. Thus nearly all the sectors in which India enjoys a comfortable and comparative advantage are routinely subjected to non-trade barriers in China.

Apart from market-access issues and China's unfair trade practices, India's own set of structural hurdles- some of which are deep-rooted- and productivity gap with China are to be blamed for the ballooning trade deficit with China. This is because in defiance of the 159 anti-dumping cases against China since 1992, the largest among foreign nations, across a broad spectrum of sectors- steel, pharmaceuticals, consumer goods, etc- trade deficit looms large. India's manufacturing industry relies on inexpensive and skilled labour, and the manufactured products are cost-effective; yet the competitiveness is not maintained owing to low labour productivity. On one hand, the business regulatory environment is quite cumbersome; on the other the infrastructural bottlenecks and inflexible and archaic labour laws make it worse for the growth of manufacturing sector.

Besides, India hasn't even been able to make the best of its comparative advantage with China. For instance, even after the lifting of the ban on Basmati exports, India has failed to tap the under-exploited Chinese market. India faces tough competition from rival Pakistan, which continues to rule the world's largest rice market with its price competitiveness. Raw materials like iron ore, bauxite and cotton which make up bulk of India's exports to resource-hungry China have also continued to post a downward trend owing to mining bans in Karnataka and Goa by the Supreme Court. Before the bans, India was the largest exporter of steelmaking raw-materials to China- a slot replaced by Australia and Brazil; while iron-ore remains China's top import commodity. A sharp decline in their exports in the last two years has pulled down India's overall exports to China by about 25%. For a country rich in mineral resources, caps on production and exports greatly minimise the scope of sustainable capitalisation of these resources.

During his visit to India last year, the Chinese Premier Li Keqianq promised to address India's concerns by opening up the market, and proposed to step up investments in India by establishing Chinese investment parks. But while China honors its tardy commitments, India must look to diversify its trade basket, especially in labour-intensive sectors such as textiles, as China battles rising labour costs and unfavourable demographics, challenging its low-cost manufacturing advantage. But more importantly, while the trade-diversification process is still in its gestation period, India must look at the areas where it enjoys a comfortable competitive edge- skill intensive sectors like IT and pharmaceuticals which make the perfect use of India's intellectual capital; agro-processing; raw materials and intermediate products- and thus improve the productivity gap. Bridging the trade deficit with China would go a long way not only in sustaining the trade relations but also help in enhancing them.
Geethanjali Nataraj & Garima Sahdev
(The writers are Senior Fellow and Research Assistant respectively at Observer Research Foundation, Delhi)