Stay Informed about the Latest News
Sign up to our newsletter
Back to news
How the French Presidential elections can alter European politics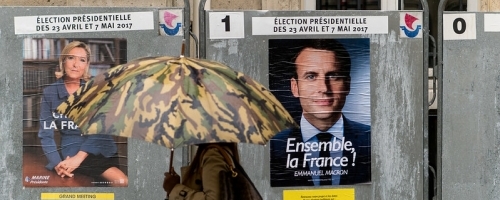 Le Pen & Macron, French election posters (CC BY 2.0) by Lorie Shaull

The outcome of the ongoing French presidential elections will determine whether France prioritises fulfilling its responsibility to the EU more so over its citizens?
On 10 April, France concluded its first round of voting, which brings President Emmanuel Macron and Marine Le Pen face-to-face again since their candidature in 2017. However, the geopolitical scenario has changed drastically in the last five years as the current focus is on Russia's aggression in Ukraine. Whilst Europe and the European Union (EU) aim to achieve cohesiveness in their policies against Russia, the outcome of the French Presidential elections could play a monumental role in shaping the future of Brussels. As the conflict brews in Europe, the necessity for political stability and accountability grows primarily due to the economic and political might of Germany and France. Berlin had witnessed a change of regime earlier last year when Angela Merkel resigned, and Olaf Scholz was elected as the new Chancellor of Germany with a coalition government. Similarly, France now ventures into the second round of voting on 24 April, which would conclusively decide whether President Macron gets re-elected, or Marine Le Pen becomes the new French President. In the first round of voting, President Macron won 27.6 percent of the votes, while Marine Le Pen garnered 23.4 percent of the votes. Whilst multiple polls have suggested that President Macron should be able to retain his presidency, however, Le Pen's candidacy and her pro-active political rallying could make the contest closer than the speculated estimates. The polls are forecasting Macron winning 51 percent of the vote, while Le Pen at 49 percent. Other possible candidates such as far-left leader Jean-Luc Mélenchon failed to defeat Le Pen for second place after gathering 21.9 percent of the votes. The first round of elections has also dented the aspirations of the former ruling parties as both the Socialist Party and Les Républicains' candidates received less than 5 percent of the votes, which makes them ineligible for campaign reimbursement. Nonetheless, Macron has now received backing from the defeated socialist, communist, green, and conservative candidates, and Marine Le Pen's candidature is solely backed by her far-right challenger Éric Zemmour. Both Le Pen and Zemmour have agreed on critical issues namely migration threats and Euroscepticism. Socialist nominee Anne Hidalgo opined against Le Pen's victory fearing dispersion of hatred against everyone, while the Republican nominee Valérie Pécresse voiced her concerns on the far right closing gap and being in arm's length distance of Élysée Palace.
"Whilst multiple polls have suggested that President Macron should be able to retain his presidency, however, Le Pen's candidacy and her pro-active political rallying could make the contest closer than the speculated estimates."
Macron has urged voters to cast their votes in the second round and refrain from abstention as highlighted in his speech where he said, "I don't want a France which, having left Europe, would have as its only allies the international populists and xenophobes. That is not us. I want a France faithful to humanism, to the spirit of enlightenment." Macron would become the first French President to win re-election since Jacques Chirac in 2002, despite his minimal rallying. Marine Le Pen, on the other hand, has significantly softened her stance on immigration and banning Muslim headscarves in public spaces. The far-right leader learnt her lessons from her previous experience as her rallying focused on softening her language and mainstream issues such as the rising cost of living, coping with rising inflation and fuel prices, and implementing a "Buy French" policy. However, stopping uncontrolled immigration and eradicating Islamist ideologies remain two of her top priorities. This change in strategy has worked for Le Pen so far as her polling numbers fair better than her previous attempt in 2017. After Russia's aggression in Ukraine, Le Pen was forced to scrap a leaflet with a photo of her and Putin from her 2017 visit to the Kremlin. She has also been an ardent admirer of Vladimir Putin, however, her quick distancing from Kremlin and focusing on domestic issues has appealed to the rural and suburban areas in France. For Macron, his run marches on a mixed record as his ambition towards creating European strategic autonomy and European defence remains questionable with other member states nonetheless, he has been a major cohesive factor in the EU winning its respect both in the region and beyond Europe despite his divisive perception in France. His management of the Gilet Jaunes Movement and his stance on requiring people to show proof of vaccination did improve vaccination rates however it also fired up minorities against his presidency.
Whilst Macron focuses on the French and European Foreign policy, Le Pen has diverted her attention toward domestic concerns which have raised her popularity amongst the masses. She aims to practice protectionist measures and implement the "Buy France" policy, reduce the minimum retirement age to 60 and cut VAT on energy to 5.5 percent from the current 20 percent. Le Pen also aims to spend 2 billion euros to raise the salaries of hospital workers and expand the existing workforce by 10,000. However, Le Pen has also controversially decided to cut France's contribution to the EU and has been a zealous supporter of giving primacy to the French National law over the EU. She has abandoned her plans of exiting the Eurozone and the EU, however, she remains vocal about quitting the EU Energy Union and bolstering more custom agents to monitor goods entering the French territories which undermines the integrity of the EU single market. Marine Le Pen has self-proclaimed herself to be a "Gaullist" named after wartime leader and the founding President of the Fifth French Republic. De Gaulle withdrew French forces from the NATO command structure, initiated the removal of Allied bases from France and promoted France's independent nuclear programme. His actions were neither a doctrine nor a political ideology, but a pragmatic exercise that became a quintessential French political phenomenon in the 20th century, where France would not be subordinate to any other power. Similar to De Gaulle, Le Pen intends to pull France out of NATO's integrated command and replace the EU with a "Europe of nations". Withdrawal from NATO would create a severe backlash in France as over 67 percent of the French population do not believe France should leave NATO. Macron, however, remains true to his motto, "neither left nor right" by advocating centrist policies both in France and Europe. He pushes to develop European strategic autonomy, which would reduce the bloc's dependence on Washington and other powers. While Macron has often suggested reducing dependence on NATO by investing in PESCO and European security, the Russian invasion of Ukraine has made him reaffirm his commitment to NATO as the primary security guarantor for Europe. Macron has pushed the EU to focus more on the Indo-Pacific which eventually led to the EU developing its Indo-Pacific strategy in April 2021.
"De Gaulle withdrew French forces from the NATO command structure, initiated the removal of Allied bases from France and promoted France's independent nuclear programme."
The grand televised debate on 20 April would bring the pair against each other with both candidates knowing what is at stake and its subsequent ramifications. The future of European governance relies heavily on the outcomes of the French Presidential elections which could be one of the closest elections in a long time; however, both candidates look to play to their strengths. Macron's decisive foreign policy credentials and his leadership in European affairs could be an advantageous posture for him while Le Pen's newly directed attention towards protectionism and domestic issues could result in the far-right leader obtaining votes from the rural population. However, her longstanding ties with Russia and lack of foreign policy could impair her presidential ambitions. President Macron might end up winning as suggested by polls, but the rise of right-wing parties in Europe remains on an upward trajectory. The outcome of the French Presidential elections will not only be a nail-biting finale for France, but the rest of Europe and other major actors as well.
B. Rahul Kamath (ORF)
22 April 2022