Stay Informed about the Latest News
Sign up to our newsletter
Back to news
Chinese public opinion on aiding Russia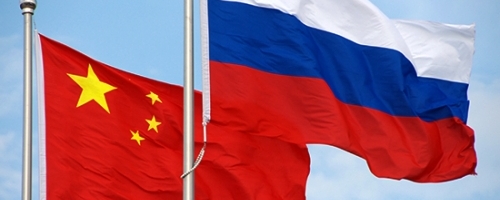 Mil.ru, CC BY 4.0 , via Wikimedia Commons

China's aid to Russia during the conflict is well-received by China's domestic circles as they believe it caters to China's interests in the long run.
As the world recently observed the first anniversary of the devastating Ukraine Crisis, the possibility of China aiding Russia with lethal weapons and prolonging the conflict has emerged as a burning issue. The United States (US) Secretary of State, Antony Blinken, and Director of the CCP Central Foreign Affairs Office, Wang Yi, had a particularly tense meeting on the said issue at the sidelines of the Munich Security Conference on 18 February 2022. Against this backdrop, it is interesting to evaluate how the issue is being viewed and discussed internally in China's domestic circles.
The dominant discourse on the Chinese internet, which is also a reflection of China's official discourse, is that these are groundless allegations by the West, false accusations with no evidence, a part of the West's smear campaign against China which is meant to consume China's diplomatic energy, isolate it in the international community, and sanction Chinese companies for various unwarranted reasons. While encouraging its allies to provide military assistance to Ukraine, the US, it is argued, wants to draw redlines for China, by making it choose sides. And hence, the message emanating from Beijing is that China has never been a participant in the Ukrainian crisis, and any attempt to drag it into the situation is doomed to fail.
There have also been angry reactions from sections within the Chinese strategic community who claimed that the US only wants to harm China's interests but does not fulfil its responsibility to stabilise Sino-US relations; it only wants to "extract" from China without "giving" back anything, which is not going to work any longer. "The United States has no right to ask China to obey its demands. If it wants China not to provide Russia with so-called "lethal weapons", it must first give up arms sales to Taiwan", read one article on the Chinese internet.
"The message emanating from Beijing is that China has never been a participant in the Ukrainian crisis, and any attempt to drag it into the situation is doomed to fail."
Others, meanwhile, mocked the concern of the US and NATO over China's growing military capability. It was argued that since China is the world's factory and is the country with the most complete industries in the world, once China provides military assistance to Russia, the country will be able to obtain almost all types of weapons currently in service, thereby, completely reversing the current situation on the Russian-Ukrainian battlefield. No matter how many Western countries provide support for Ukraine, Russia, it is argued, can become invincible with China's support.
However, despite the bragging and boasting, some Chinese observers do admit that it is only natural for China to officially deny the Western countries' charges of providing military aid to Russia, while also simultaneously putting down the Russian proposition of China publicly endorsing the China-Russia alliance. After all, China cannot afford to lose the two huge markets of the US and the European Union (EU) at the same time. However, on ground, they say that it is undeniable that it is in China's interest to prevent the western block from having a decisive victory at the Ukrainian battlefield, which, in all probability, will turn against China next. Therefore, it is important for China to support Russia and prevent its complete rout on the battlefield, albeit in certain indirect ways, particularly through third parties.
Economic and trade assistance is also seen as most important ways to aid Russia. The conflict has indeed taken a toll on the Russian economy which has been sanctioned in various ways. It is argued that China can and is already helping Russia by increasing Sino-Russian trade. In 2019, the Sino-Russian trade was US$ 110 billion, and the trade volume in 2022 is close to US$ 200 billion. It is also being discussed that since China and Russia have signed strategic contracts related to oil and gas worth hundreds of billions of dollars, import and payment of these can be made well in advance to support Russia economically, while also ensuring that no actions can be taken against China on this ground.
Secondly, China is also exploring ways of indirect assistance to Russia through the supply of small arms. The Ukraine Crisis has already turned into a large-scale conflict, consuming a huge amount of ammunition on both sides every day. While the European and American countries in Ukraine are often short of ammunition, Russia has sufficient ammunition—the credit for which, as per these observers, must be given to China. It is argued that many specifications of Chinese and Russian weapons are the same. For example, China has a huge production capacity of 152mm howitzer shells, which happen to be the most consumed ammunition on the Russian-Ukrainian front. China, which sold US $100 billion worth of arms abroad in 2022, is believed to be exporting these ammunitions to countries like Jordan, North Korea etc, from where these are making their way back to Russia.
"While the European and American countries in Ukraine are often short of ammunition, Russia has sufficient ammunition—the credit for which, as per these observers, must be given to China. "
Third is the supply of defensive weapons. Many Chinese observers are of the opinion that even if China cannot supply offensive weapons, it can still provide defensive weapons to Russia, such as body armour, helmets, military boots, protective clothing, instant rations, etc., which is also much needed by the Russian side. There are much discussions on the Chinese internet about how in October and November last year, several Russian An-124 and Il-76 transport planes made repeated sorties of Chengdu, Shanghai, Zhengzhou and other places in China, how Russian Wagner mercenary group might have purchased related military supplies from China. Such activities, as per the Chinese assessment, are only going to continue or intensify, given that the US and the West are unable to intervene as these fall under civilian commercial activities between nations
Fourth, there is much interest in China to explore the option of dual-use equipment (that can be used as both military equipment and consumer goods), particularly Chinese domestic private companies supplying civilian drones, spy tanks with wireless cameras and remote control, smart cards, light-emitting diodes, polysilicon, semiconductor manufacturing equipment and other goods, compensating for the serious deficiencies in the informatisation of the Russian army.
Fifth, it is being argued that China can and is already offering international public opinion assistance to Russia, by calling for a peaceful solution, and also abstaining on resolutions that are not conducive to Russia.
Overall, many in China believe that in the current international situation, China's supporting Russia is actually supporting itself and hence the wider public support for China going the extra mile to circumvent sanctions against Russia.
Antara Ghosal Singh (ORF)
17 March 2023