Stay Informed about the Latest News
Sign up to our newsletter
Back to news
China Envisions A New World Order Via BRI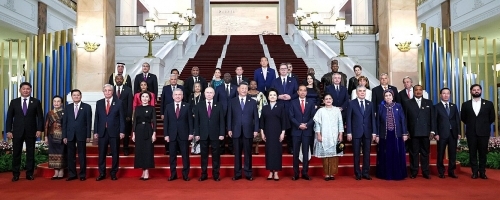 By Kremlin.ru, CC BY 4.0, https://commons.wikimedia.org/w/index.php?curid=139110338

Reaffirming his nation's commitment to continue pouring billions of dollars into the economies of developing countries as the Belt and Road Initiative (BRI) – the "project of the century" – enters its second decade, Chinese President Xi Jinping underlined earlier this week at the BRI forum that "China can only do well when the world is doing well… When China does well, the world will get even better." More significantly, and perhaps expectedly, he took aim at the West when he suggested that "we stand against unilateral sanctions, economic coercion, decoupling, and supply chain disruption."
With only 24 world leaders in attendance, compared to the 37 who had attended the last BRI Forum, Xi was keen to showcase that China is open for business at a time when concerns are rising about the health of Chinese economy. Promising to "comprehensively remove restrictions on foreign investment access in the manufacturing sector," the Chinese leader talked of his intent to focus on "cross-border trade and investment in services and market access for digital products."
"With only 24 world leaders in attendance, compared to the 37 who had attended the last BRI Forum, Xi was keen to showcase that China is open for business at a time when concerns are rising about the health of Chinese economy."
This was China's first major international event since coming out of around three years of pandemic lockdown in January 2023 and was a celebration of one of Xi's signature projects. Not surprisingly, he was gung-ho about the achievements of BRI as he underlined how his initiative has helped the developing world by making infrastructure and connectivity the centerpiece of emerging global economic discourse. He outlined how China has "endeavored to build a global network of connectivity consisting of economic corridors, international transportation routes and information highway as well as railways, roads, airports, ports, pipelines and power grids," thereby boosting "the flow of goods, capital, technologies and human resources among countries involved and injected fresh vitality into the millennia-old Silk Road in the new era."
There is no doubt that BRI has been an innovative idea to energize the next stage of economic globalisation and, for a large part of the world left outside the global economic order, this was a timely initiative which, by mobilising as much as $1 trillion in finance, allowed for new economic possibilities to emerge. But it was the operationalization of the idea that left much to be desired as several nations got saddled with huge debt even as the financial and environmental sustainability of many projects brought to the fore the vulnerabilities of a centralised, top down project. With several infrastructure projects stuck and the Chinese economy slowing down in recent years, this forum was also Xi Jinping's attempt to demonstrate his nation's continued commitment to a project in which he is personally invested and which is as much about geopolitical positioning of China in the emerging global order as it is about geoeconomics.
Facing a lot of flak for the performance of BRI, Xi tried to send out a message that he is willing to make some changes with a move to "high-quality" development, focused primarily on the digital economy and sustainable "green development" and underpinned by "the philosophy of open, green and clean cooperation, and the goal of pursuing high-standard, people-centered and sustainable cooperation." Integrity is the new buzzword as Xi talked of establishing "the Integrity and Compliance Evaluation System for companies involved in Belt and Road cooperation" and working "with international organizations to carry out research and training on promoting integrity in Belt and Road cooperation." This was part of his eight-point action plan that also includes supporting an open world economy, promoting green development, advancing scientific and technological innovation, supporting people-to-people exchanges, and strengthening institutional building for international Belt and Road cooperation.
In light of the challenges facing the BRI projects worldwide and others launching connectivity alternatives to BRI, it was imperative for Xi Jinping to be seen as making amends. How these changes get reflected on the ground will shape the future of BRI and China's credibility as a provider of global public goods. But for Xi Jinping, this is also about offering an alternative to the US-led global order, and the presence of Russian President Vladimir Putin and a Taliban delegation led by its acting minister of industry and commerce, Nooruddin Aziz, brought this into sharp relief.
"Russia has not officially signed on to the BRI but Putin made it a point to attend the forum in person despite not having travelled abroad since launching the Ukraine war."
Putin, of course, was the star at the forum, getting a red carpet welcome from the hosts and applauding the "successes" of "our Chinese friends" in return. Russia has not officially signed on to the BRI but Putin made it a point to attend the forum in person despite not having travelled abroad since launching the Ukraine war. The Moscow-Beijing global alignment is unmistakable as they seek to challenge the West, also reflected in their explicit criticism of Israeli actions while refraining from condemning Hamas. Since the Ukraine crisis, where the West has tried to isolate Russia, China's embrace has become all-encompassing as it has emerged as Russia's most important trade partner, providing critical civilian and military goods that have sustained Russian economy and war operations.
The other interesting presence was that of the Taliban, also meant to convey a message to the US that China will continue to move forward with its outreach to a pariah state, if only to scuttle Washington in achieving its objectives. Last month, China became the first country to send an ambassador to Afghanistan though Beijing is yet to give diplomatic recognition to the Taliban. China and Pakistan had also announced earlier this year that the China-Pakistan Economic Corridor would be extended to Afghanistan. Nothing much has come of it yet but China's support gives credibility to the Taliban's claims of being the only credible alternative in Afghanistan.
China's celebration of a decade of BRI was more an attempt to showcase its own rising profile as the provider of an alternative to the US-led global order than to provide for the development needs of the Global South. But challenges for the BRI are mounting and Xi's words at the forum were an explicit acknowledgment that changes in Chinese approach would be necessary if the second decade of BRI is to see more accomplishments than the first.
Harsh V. Pant (Vice-President ORF)
27 October 2023