Stay Informed about the Latest News
Sign up to our newsletter
Back to news
An imperial imprint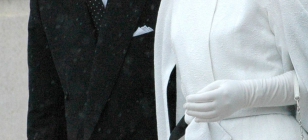 Emperor Akihito and Empress Michiko of Japan were in New Delhi and Chennai last month in one their rare overseas visits. Their visit underscores the growing centrality of India in Japanese foreign policy. That New Delhi took this visit seriously was evident from the fact that the Indian prime minister decided to appoint a special envoy with ministerial rank to oversee the preparations for this visit. A multifaceted partnership is burgeoning between India and Japan, and this visit - likely to be one of the last foreign trips for the 79-year-old emperor - was aimed at putting the imperial imprimatur on ties between the two Asian powers. Yet, the Indian media consumed with domestic politics, Bollywood and cricket, hardly took any notice of this remarkable trip, and the significant change in the strategic ties between India and Japan that this visit represents.
It was in September, 2013, that India and Japan once again decided to pick up the threads of their ongoing negotiations on a civil nuclear energy cooperation pact. This was the fourth round of these talks that have been in a state of suspended animation for the last three years. There has been a new energy in Delhi-Tokyo ties since the coming to office of the Japanese prime minister, Shinzo Abe in December 2012, and Japan's decision to re-launch these talks is a manifestation of this new reality. The talks have been stalled since the nuclear disaster at Fukushima on 2011. Manmohan Singh and Abe had underscored the importance of civil nuclear cooperation between the two countries even while recognizing the need for making nuclear safety a priority at their summit meeting in May, 2013. They had directed their officials to accelerate the civil nuclear negotiations towards an early conclusion.
With the Japanese emperor deciding to make India the destination for one of his rare visits abroad, and Abe bringing Delhi back in focus in Japanese foreign-policy priorities, these are heady days for ties between India and Japan. Singh has suggested that "the time has come for India and Japan to build a strong contemporary relationship, one involving global and strategic partnership that will have a great significance for Asia and the world as a whole". In Abe's words, "A strong India is in the best interest of Japan, and a strong Japan is in the best interest of India." Given Abe's admiration for India and his repeated articulation of the need for India and Japan to work more closely, this is a unique opportunity to radically alter the contours of Indo-Japanese ties.
Of all recent Japanese leaders, Abe has been the most enthusiastic about the future of the India-Japan relationship, and gave it an entirely new dimension. In his address to the joint session of the Indian Parliament, Abe had talked about a "broader Asia" constituted by Pacific and Indian Ocean countries such as Japan, India, Australia and the United States of America, which share the common values of democracy, freedom and respect for basic human rights. He argued for greater cooperation among these states. In his book, Towards a Beautiful Country, Abe makes the case about Japan advancing its national interests by strengthening its ties with India. He has argued, "It will not be a surprise if in another decade Japan-India relations overtake Japan-US and Japan-China ties." Building on the idea of a triangular security dialogue between Washington, Tokyo and Canberra initiated by his predecessor, Abe made known his desire to create a four-way strategic dialogue with the US, Australia and India, a framework that he stressed would be based on their shared universal values such as freedom, democracy, human rights, and rule of law. Since assuming office, Abe has once again underscored the importance of not only consolidating Japan's historic alliance with the US, but also expressed a desire to deepen partnerships with India, Indonesia and Australia.
After muddling through seven leaders since 2006, none lasting longer than 481 days in office, the Japanese populace is finally underlining its disenchantment with perennial instability. In a strong sign of approval for Abe's policy agenda, Japanese voters gave him a decisive victory in elections for seats in the upper house of the nation's parliament in June, 2013. With his ruling bloc now controlling both chambers, Abe has acquired a mandate quite unlike any other Japanese leader in nearly a decade, and this will enable him to consolidate not only his fiscal and monetary agenda but also his rather bold foreign and security policy programme. As a result, the first defense white paper released by Japan under Abe is a significant departure from the past, not only in tone but in substance as well. Gone is the assertion from the previous report that "peace can be secured by making diplomatic and other efforts comprehensively along with defense capabilities". Instead, there is a robust articulation of the need to upgrade Japan's defence including the capability to attack military bases in enemy countries and providing new equipment and an expanded role to the Self Defense Forces.
Beijing and Tokyo have been at loggerheads over the Japan- controlled Senkaku Islands and tensions have heightened since the government effectively nationalized the territory in September, 2012. China has since continued to send surveillance vessels and aircrafts near the uninhabited islets, putting Japanese forces on alert. Recently, in an attempt to chip away at Japan's claims to being in control of these islands, China declared an "air-defense identification zone" that would give it the right to identify and possibly take military action against aircraft near the islands in the East China Sea, which are administered by Japan but claimed by China and Taiwan.
China's rise is the most significant variable in the Asian geostrategic landscape today, and both India and Japan would like to see a constructive China playing a larger role in the solving of regional and global problems rather than becoming a problem itself. Concerns are rising for both states, about China's assertive diplomatic and military posture. China's attempts to test the diplomatic and military mettle of its neighbours will only bring Japan and India closer. While New Delhi and Tokyo would like greater transparency and restraint on Beijing's part, there is now a need for them to be more candid about their expectations.
The Japanese emperor's visit to India was another opportunity for the two nations to reassert their convergent interests and build on a relationship that has the potential to become the most significant partnership in Asia in the coming decades.
Harsh V Pant
The writer is a Visiting Fellow at Observer Research Foundation, Delhi