Stay Informed about the Latest News
Sign up to our newsletter
Back to news
Qatar Registers its Soft Power Presence in Afghanistan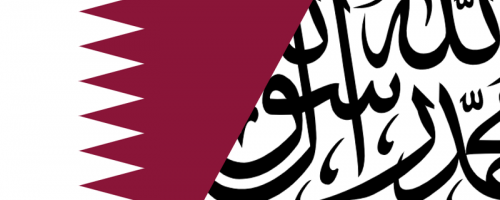 The Qatari's Deputy Prime Minister and Foreign Minister Sheikh Mohammad bin Abdulrahman Al-Thani's visit to Afghanistan in September1 marked the first high level visit since the Taliban takeover on August 15. He held meeting with the Taliban leadership including the Prime Minister of the newly declared 'caretaker' government Mullah Muhammad Hassan Akhund and urged him to have a greater interaction with the international community and "to involve all Afghan parties in national reconciliation".2 A few days earlier, US Secretary of State Anthony Blinken chose to go to Qatar for his first official visit since US withdrawal from Afghanistan on August 31 and thanked the tiny Gulf country for its "outstanding support".3 Because of its ties with both Washington and Taliban, Doha is uniquely placed to play an important role in Afghanistan and Qatar has lapped up the opportunity with the help of a soft power approach.
Post August 15, Qatar was not only seen playing an important role in evacuation of 124,000 people from Afghanistan, but also an important gateway for more than half a million people, who are likely to be resettled to other countries in the days to come.4 Talking about the evacuation efforts, US President Joe Biden said that the "largest airlift of people in history" would not have been possible without Qatar's assistance and personally thanked Qatar's Emir Sheikh Tamim bin Hamad al-Thani for his "generous support".5 Blinken had earlier mentioned about the relocation of US diplomatic mission to Qatar amid security concerns in Afghanistan. To discuss a coordinated approach for Afghanistan, Qatar was invited to a important virtual meetings by Washington along with global heavy weights such as Canada, France, Germany, Italy, Japan, Turkey, the United Kingdom, the European Union and NATO.6 It is important to note that the same Qatar was approached by the Taliban to seek its help for resumption of operations at the Kabul airport after the US withdrawal. The first aircraft that landed at the Kabul airport following the US departure was that of Qatar Airways, which brought a technical team to assist the Taliban to resume operations at the airport. To understands the context and reason of Qatar's acceptability among the Taliban and Washington, it is important to briefly look at Doha's ties with both.
Doha's Ties
During Taliban's first stint in power only three countries recognized it- two among them were Saudi Arabia and United Arab Emirates (UAE). Interestingly, both the Gulf countries have had a muted presence this time while their rival Qatar is seen playing a pivotal role in Afghanistan. The context for that was set a decade earlier when Washington felt that talks with the Taliban will be crucial to bring a negotiated settlement to the war in Afghanistan. Subsequently, the search for a neutral country that could host the talks began. Following several negotiations, in 2013 Qatar agreed to host the Taliban's political office in Doha with the support of the Obama Administration. Mullah Abdul Ghani Baradar, who was in Pakistani prison since 2010, was released on Washington's behest so that he could take charge of the political office in Doha in 2018.7 Qatar played host to several negotiations that paved the way for the signing of the US Taliban Peace Accord in February 2020 between the US Special Representative for Afghanistan Reconciliation Zalmay Khalilzad and Mullah Baradar in Doha, Qatar. Later as the host of the intra-Afghan talks between the representatives of the Ashraf Ghani led Afghan government and the Taliban, Qatar welcomed several key stakeholders and international organizations in Doha on September 12, 2020.
Qatar has been the host of US's largest military base in the Middle East and thus has had close ties with Washington. Being the host of the Taliban's political office, Qatar got an easy access to the Islamist group who over the years came to recognize it as trusted and neutral broker. These factors gave Qatar an edge over other nations and helped it to emerge not only as a mediator between the West and the Taliban, but also as a key player in Afghanistan
However, it is important to be aware that Qatar over the years has developed a reputation of engaging with the Islamist groups around the Middle East, from Hamas to various groups in Syria and Libya as it played role of a mediator in major conflicts in that region. With abundant financial resources, but limited human resources, Qatar's leaders have relied on personal links and speculative bouts of support to various intermediaries as a key foreign policy modus operandi; this often led Qatar to support groups related to the Muslim Brotherhood.8 In 2017, Saudi Arabia, the UAE, Egypt and Bahrain cut ties (which was later restored) accusing Qatar of getting too close to Iran and fuelling instability via its state-owned news channel Al Jazeera.9 Even with respect to Afghanistan, Al Jazeera played a significant role in putting forward Doha's point of view in front of the world audience. Over the years, the Qatari media house also provided a platform to the Taliban to put forward their perspective and was the only channel to broadcast live the entry and capture of the Presidential palace in Afghanistan by the Taliban, the day Kabul fell.10
Qatar's Soft Power Approach
Afghanistan provided Qatar with a unique opportunity utilise its soft power acumen. Apart from its assistance to the US during its rescue efforts in the aftermath of the Taliban takeover, it managed to evacuate 250 students and staff members as well as journalists working for international media outlets.11 Qatar's contribution in the evacuation of the ten members of all-girls robotic team and a girl's boarding school has received considerable praise.12 Many countries have raised concerns over their citizen's who have been left behind in Afghanistan and have highlighted the importance of the resumption of evacuations. On September 19, the airport was officially opened after it was fully operational for domestic and international flights.13 Both Qatar and Turkey's contribution for the same has been acknowledged. At present, Qatar is handling the technical side of the operations at the Kabul airport. International organizations have also acknowledged Qatar's role in supporting humanitarian outreach to Afghanistan and highlighted the crucial role the tiny peninsular Arab state may play in a country that is on the verge of a humanitarian crisis.
Speaking at the UN General Assembly on September 22, Tamim bin Hamad Al Thani, the Emir of Qatar stressed "the necessity of continuing dialogue with the Taliban because boycott only leads to polarization and reactions, whereas dialogue could bring positive results."14 Several countries including Germany and United Kingdom, have utilized the "Doha Channel" to establish contact with the Taliban.
India's first formal diplomatic engagement with the Taliban happened, earlier this month when the Indian envoy met Taliban leader Sheh Mohammad Abbas Stanekzai in Doha Qatar.15 Doha's new role of facilitator should be seen as a part of its soft power approach in Afghanistan.
It would not be erroneous to argue that Afghanistan provided Qatar with an opportunity to strengthen its position within the international community by virtue of playing the role of mediator and facilitator between the West and the Taliban. Qatar's access and ties to both Washington and Taliban and its reputation as a neutral broker played an important role in its emergence as an important actor in Afghanistan. However, what sort of influence Qatar has over Afghanistan's new rulers remains a question as of now.
Dr Anwesha Ghosh
28 September 2021
Endnotes:
"Qatar foreign minister visits Kabul for first high-level meeting with Taliban". FRANCE 24, September 13, 2021. Available at: https://www.france24.com/en/asia-pacific/20210913-qatar-foreign-minister-visits-kabul-for-first-high-level-meeting-with-taliban. (Accessed on 22.09.2021)
"Qatar foreign minister in Afghanistan in first high-level visit"Al Jazeera, September 12 2021. Available at:https://www.aljazeera.com/news/2021/9/12/qatars-foreign-minister-visits-afghanistans (Accessed on 15.9.2021)
"Blinken departs for Qatar, Germany to thank for 'outstanding support' in evacuation from Afghanistan". The Times of India, September 3, 2021. Available at:https://timesofindia.indiatimes.com/world/us/blinken-departs-for-qatar-germany-to-thank-for-outstanding-support-in-evacuation-from-afghanistan/articleshow/85966596.cms(Accessed on 22.09.2021)
"Biden thanks Qatar's emir for help in Afghanistan -White House."Reuters, Aug 21, 2021. Available at:https://www.reuters.com/world/middle-east/biden-thanks-qatars-emir-help-afghanistan-white-house-2021-08-21/(Accessed on 22.09.2021)
"Biden thanks Qatar's emir for help in Afghanistan -White House."Reuters, Aug 21, 2021. Available at:https://www.reuters.com/world/middle-east/biden-thanks-qatars-emir-help-afghanistan-white-house-2021-08-21/(Accessed on 22.09.2021)
Qatar lauded for its role in Afghanistan evacuations. "AL Jazeera, August 30 2021. Available athttps://www.aljazeera.com/news/2021/8/30/qatar-emerges-as-key-player-in-afghanistan-after-us-pullout(Accessed on 22.09.2021)
"Pakistan releases top-ranking Taliban prisoner Baradar". Duetsche Welle, Sep 21, 2013. Available at:https://www.dw.com/en/pakistan-releases-top-ranking-taliban-prisoner-baradar/a-17103880(Accessed on 22.9.2021)
David B Roberts, "Reflecting on Qatar's "Islamist" Soft Power", "Foreign Policy, April 2019
"Afghanistan: Qatar and Turkey become Taliban's lifeline to the outside world" BBC, Sep 5, 2021. Available at:https://www.bbc.com/news/world-middle-east-58394438(Accessed on 22.9.2021)
"Taliban enters Afghan presidential palace after Ghani flees." Al Jazeera, Aug 15, 2021. Available at:https://www.aljazeera.com/news/2021/8/15/taliban-continues-advances-captures-key-city-of-jalalabad(Accessed on 22.09.2021)
"Afghanistan's all girl robotic team evacuated safely to Qatar." CBS News, Aug 20, 2021. Available at: https://www.cbsnews.com/news/afghanistan-girls-robotics-team-evacuated-qatar/ (Accessed on 22.9.2021)
"10 members of Afghan girls robotics team safely evacuated to Qatar". FOX5, August20, 2021. Available at: https://www.fox5atlanta.com/news/10-members-of-afghan-girls-robotics-team-safely-evacuated-to-qatar (Accessed on 19.9.2021)
"Kabul Airport fully operational for domestic & international flights."The Khaama Press, September 20, 2021. Available at:https://www.khaama.com/kabul-airport-fully-operational-for-domestic-international-flights-57457/(Accessed on 20.9.2021)
"Qatar's Emir urges the world to engage with the Taliban."Al Jazeera, September 22, 2021. Available at: https://www.aljazeera.com/news/2021/9/21/unga-qatar-emir-urges-world-engage-with-taliban
"Meeting in Doha". Press Release, Ministry of External Affairs, Govt. of India, Aug 31, 2021. Available at: https://www.mea.gov.in/press-releases.htm?dtl/34208/Meeting_in_Doha(Accessed on 23.9.2021)