Stay Informed about the Latest News
Sign up to our newsletter
Back to news
"You're on Mute" – Covid19, Technology-dependence, and Stress in Workers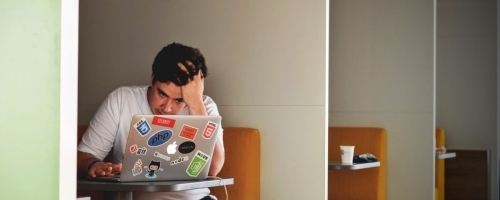 Imagine the feeling you get when your internet connection stops working just as your webinar is about to start – or worse, you are bumped off your webinar because your app has chosen that exact moment not to cooperate. You are late for your virtual meeting because you can't find the password – it's buried in your email. You have heard and spoken the words "can you hear me" and "you're on mute" so many times that it makes you wonder whether your basic senses have finally succumbed to the over-dependence on technology. Does the stress, tension, and apocalyptic feeling you think of when these technological glitches occur seem familiar? Even when the first industrial revolution saw agricultural communities shifting to modern automobiles, anxiety over flat tyres and fuel supplies would have increased. Transition to new technology is therefore always replete with a sense of stress and anxiety, which shows that these transitions need to be better-planned, as opposed to curbing the advancement of technology and its benefits itself. The work from home format kickstarted by the coronavirus crisis has now had ample time to make its malfunctions known. The increased dependence on technology has led to a lack of control over work output that has increased stress levels in employees, which is in direct contrast to the purported comfort of the work from home format – perhaps due to the sudden leap without adequate planning for adaptation and adjustment.
The increase in remote working can definitely be seen as a boon for urban white-collar workers who have to deal with a daily commute and skyrocketing property and rent. If companies were to change their working formats to remote working, their overhead costs would be removed and their employees would get the benefit of spending less time commuting and shifting to part of cities with lower rents.
Though the material cost of working may have reduced with the advent of remote working, the mental cost of increased dependence on technology must be investigated further. Even before the coronavirus pandemic, stress and anxiety in the digital age was studied due to the high correlation between smartphone and internet use, and poor cognitive skills such as attention, memory and learning; blue screen exposure leading to reduced melatonin production, which interrupts the circadian rhythm; blurred lines between work and personal time; fear of missing out on a social or professional connection/event due to constant digital reminders; and pervasive, problematic social comparisons through the digital medium.
The lack of a physical separation between office and home has translated into a lack of mental separation, leading to heightened levels of checking your device for work updates at every hour of the day, a feeling of 'response-anxiety' where one feels compelled to respond to updates and queries. A study by Harvard Business School analysed the emails and meetings of 3.1 million people in 16 global cities and concluded that the average workday increased by 8.2 percent, which is 48.5 minutes during the pandemic's early cycle.
Social comparisons based on material well-being have transformed into comparisons of who is dealing with the crisis better – feelings of incompetence and dejection spiking if one has not achieved a new skill or baked enough banana bread after 7 months in lockdown. Technology reducing focus and attention capabilities has heightened because access to multiple devices constantly around has replaced personal, human interactions. Flipping through Netlfix-email-zoom-whatsapp in quick succession is not a mastery of multitasking, but a testament to lowering attention span and increasing distraction. Heightened usage is also a manifestation of trying to cope with the uncertainty of the pandemic – self-motivated restriction and awareness generation about the perils of over usage are essential in these cases.
There are also increasing reports of employees feels low levels of energy and lethargy after just sitting home in front of a computer all day. During video conversations, people have to work harder for the other person to process non-verbal cues like facial expression, tone and pitch of voice, verbal inferences, and body language. The need to pay close attention to these cues is energy consuming, as well as the need to fill in awkward virtual silences. Interaction limited to the screen-space has also removed the essential non-verbal cues required to collaborate on ideas, work together without misunderstandings and judgement, and solve problems collectively.
The deluge of new technological tools that have been released to seemingly help navigate the push into the virtual space can also lead to technostress—negative symptoms associated with the use and adoption of new technologies. According to a recent study by professional services firm Sigma in the United Kingdom, workers are struggling to steer through diverting and confusing digital communication tools. The research suggests that digital tools that have been launched without adequate testing for efficiency and user friendliness have dented productivity and impaired communication. The study shows that 52 percent of workers used four or more digital tools in the avederage work day, and 6 percent used more than nine. These elements of discomfort can be related to technology affecting our locus of control, where the lack of agency felt in controlling new technology cause strain and self-doubt in workers.
The trend of automation in industries boosting productivity by removing human errors has been an ongoing phenomenon long before the pandemic, and will be an asset in the COVID19-induced social distancing world. However, it has furthered both technostress as well as raised apprehensions of technology replacing jobs. A recent study analysing the Bright and Dark Sides of Technostress: A Mixed-Methods Study Involving Healthcare IT, where 400 nurses from the United states were interviewed about their thoughts about new healthcare information technology (HIT) introduced during COVID19, showed mixed attitudes. Technical support in data management, collection, and quick access is seen as a boon in this space and has greatly increased the efficiency of quickly tracing records. However, results of the quantitative study also showed that nurses at times felt receiving technical support was obstructing their work, due to unfamiliarity with technological terminology.
The April 2020 KPMG American Worker Pulse Survey Report showed that 44 percent of US workers were worried about their jobs being replaced by technology. However, Deloitte's 2019 Global Human Capital Trends Report, which surveyed 10,000 leaders in 119 countries, showed that companies still 'fear' these technologies and are not yet ready to adopt them. For example, only 26 percent of respondents said their companies were 'ready or very ready' to deal the effect of introducing new technology. Furthermore, most companies had not yet provided their employees with the required skills to use all of the technology that has now been thrust upon them due to the pandemic. Only 17 percent of the leaders of the companies revealed that they had made a significant effort to upskill and reskill employees – though they were keen to use technology to enhance work output. These reports and studies show that both fear surrounding loss of jobs due to technology, as well as not being ready for sudden spurt in technological use is a double-edged sword of anxiety hanging atop both employees and employers.
There will always be those who use poor internet connection as an excuse for a missed meeting or delayed submission. However, organisations can and should make a concerted effort to comfortably transition into an anxiety and confusion-free digital space, and minimise the costs to productivity, by introducing professional support and transition modules to cushion any sudden changes in work formats in the future. This will involve rolling out technologies taking into consideration users' needs, comfort, and preferences, equipping employees with the required skills to move into the digital format seamlessly, and provide adequate leeway for uncontrollable glitches.
Aditi Ratho (ORF)
30 September 2020